Clorox 2®

Laundry Stain Fighter Spray




Clorox 2® Laundry Stain Fighter Spray helps you treat laundry stains with precision as they occur. Specially formulated for colours, but still safe for whites, this stain remover dissolves the toughest stains to help keep your clothes looking their best. With this precision spray bottle, you can aim this colour safe formula right where you need it to remove tough stains like dirt, grass, red sauce, red wine and more. Say goodbye to stains with Clorox 2®.

Formulated for coloured laundry but safe for whites
Dissolves tough stains like dirt, grass, red sauce, red wine and more
Precision spray bottle makes aiming easy
Keeps clothes looking their best longer
Available In:
About This Product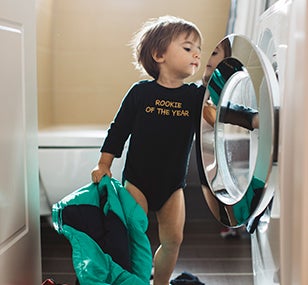 Turn

nozzle to "ON" position.

Spray

directly onto stain until completely covered.

Rub

into stain and let stand for 5–10 minutes (do not allow to dry on fabric).

Wash

with your favorite detergent plus Clorox 2® Stain Fighter for your colours or Clorox® Bleach for your whites.
Have a question? Pick a topic to get answers:
Safety

CAUTION: IRRITANT. MAY IRRITATE EYES. Do not get in eyes. KEEP OUT OF REACH OF CHILDREN.
FIRST AID TREATMENT: Contains hydrogen peroxide and isopropyl alcohol. If swallowed, call a Poison Control Centre or doctor immediately. Do not induce vomiting. If in eyes, rinse with water for 15 minutes.