Clorox®

Clean-Up® Disinfecting Bleach Cleaner Spray
Kills
Covid-19
Virus*




Clorox® Clean-Up® Disinfecting Bleach Cleaner Spray is designed to quickly and effectively clean and disinfect a variety of surfaces both indoors and outdoors. It removes tough kitchen and bath stains, grime and dirt on contact, while killing 99.9% of germs. This household cleaner can be used on multiple hard, nonporous surfaces throughout your home, including kitchen sinks, counters, refrigerators, appliances, tubs, toilets, fiberglass, floors, showers and tiles.

All purpose cleaner powered by bleach removes tough stains on contact
Kills 99.9% of common household germs
Can be used on multiple surfaces
Available In:
Read the label for directions
* SARS-CoV-2
About This Product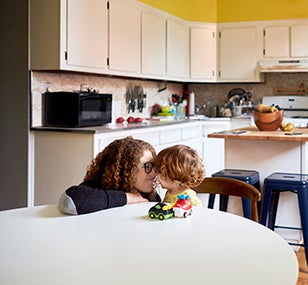 Use Only in Well-Ventilated Areas:
Before use, open windows and turn on fan. If vapours bother you, leave room while product is working. Avoid contact with clothes, fabric, wood, rubber, painted and paper surfaces. Prolonged contact with metal, old porcelain or worn plastic laminate countertops may cause discoloration.
To Clean and Disinfect Hard, Nonporous Surfaces:
Rotate

nozzle to ON.

Spray

product 10–15 cm (4–6 inches) from surface until thoroughly wet.

Let stand

30 seconds.

Rinse

or wipe clean.

Pre-clean

heavily soiled surfaces before disinfecting.
A potable water rinse is required for disinfected food contact surfaces and for baby items and toys.
To Spray Every Drop:
Tilt

bottle at a downward angle while spraying.
Have a question? Pick a topic to get answers:
Safety

CAUTION: IRRITANT. MAY IRRITATE EYES AND SKIN. DANGEROUS FUMES FORM WHEN MIXED WITH OTHER PRODUCTS. Do not use or mix with toilet bowl cleaners, rust removers, acids, or products containing ammonia. To do so will release hazardous gases. Do not get in eyes, on skin, or on clothing. Do not breathe fumes. Use only in a well-ventilated area. For sensitive skin or prolonged use, wear rubber gloves. Contents may be harmful if swallowed. Not recommended for use by persons with heart conditions or chronic respiratory problems such as asthma, emphysema, or obstructive lung disease.
KEEP OUT OF REACH OF CHILDREN AND PETS.
FIRST AID TREATMENT: Contains sodium hypochlorite. If swallowed, call a Poison Control Centre or doctor immediately. Do not induce vomiting. If in eyes, rinse with water for 15 minutes. If irritation persists, call a doctor. If on skin, rinse well with water. If breathed in, move person to fresh air.