Clorox®

Disinfecting Bathroom Cleaner₁ Spray




Clorox® Disinfecting Bathroom Cleaner1 Spray kills 99.9% of germs and cuts through dirt, grime and soap scum. This cleaner is perfect for disinfecting and cleaning tubs, tile, toilets, sinks and counters. Behind every sparkling clean bathroom, there is Clorox® Disinfecting Bathroom Cleaner1 Spray.

Kills 99.9% of household germs!
Cleans grime, dirt, soils, and disinfects
Specially formulated to dissolve soap scum on contact
Available In:
About This Product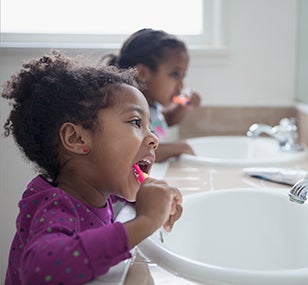 To Clean and Deodorize:
Rotate

nozzle to ON.

Spray

15–20 cm (6–8 inches) from the surface, and allow product to penetrate dirt and soap scum.

Wipe

with a wet sponge or cloth, and rinse with water.
No scrubbing is required. For tougher jobs, spray and let product stand on surface for several minutes before wiping. For best results, use regularly to prevent soap scum build-up.
To Disinfect:
Thoroughly clean

the surface to be disinfected by following the above directions (remove excess dirt first in heavily soiled areas).

Reapply

; spraying entire surface until completely wet.

Let stand

10 minutes before wiping.
Use on the following hard, nonporous bathroom surfaces: glazed ceramic tile, shower doors, toilet exteriors, plastic, chrome, fibreglass, glazed porcelain and synthetic marble. Do not use on natural marble, brass or varnished wood. Spot test all other surfaces in an inconspicuous area.
To Spray Every Drop:
Tilt

bottle at a downward angle while spraying.
Have a question? Pick a topic to get answers:
Safety

CAUTION: IRRITANT. MAY IRRITATE EYES. DANGEROUS FUMES FORM WHEN MIXED WITH OTHER PRODUCTS. Do not use or mix with products containing bleach. To do so will release hazardous gases. Do not get in eyes, on skin, or on clothing. Do not breathe fumes.
KEEP OUT OF REACH OF CHILDREN.
FIRST AID TREATMENT: Contains diethylene glycol monobutyl ether, tetrapotassium EDTA, and quaternary ammonium chlorides. If swallowed, call a Poison Control Centre or doctor immediately. Do not induce vomiting. If in eyes, rinse with water for 15 minutes. If irritation persists, call a doctor.